The Manes and Tails Harness Club received a gift of a scale-model Budweiser Clydesdale six-horse hitch and beer wagon from Terry Avent and Sharon Hoffeman Avent of Hastings, MN. The Avents had received the hitch from the daughter Joseph Ganas of West St. Paul, the original artist, a number of years after his death.
Significance of this Folk Art Piece

Upon doing some historical research, the Clydesdale six-horse hitch and red beer wagon is a scale model (1:14) replica of the original six-horse hitch that was presented to August A. Busch, Sr., by his son, August A. Busch Jr., on April 7, 1933, following the repeal of prohibition. The event took place near the Anheuser-Busch Brewery in St. Louis, MO. From that point on, Clydesdales have been the living symbol of the Anheuser-Busch Brewery. A photo of the original Clydesdale hitch and a description of the event was found in the book "All the Kings Horses" 1.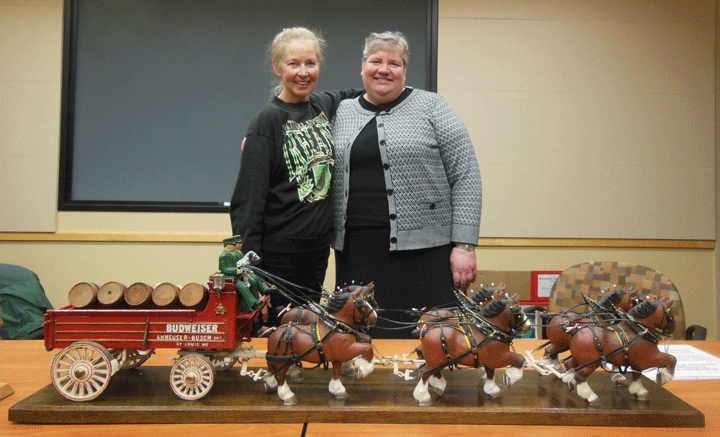 Carol Gross (left- harness and paint restoration and addtion of barrels) and Leslie Nielsen (right - granddaughter of Joseph Ganas, original artist) at the Manes and Tails Harness Club presentation on May 7, 2014.
Original Artist
The original artist and craftsman, Joseph Ganas (1904-1966) grew up in St. Paul, and moved to West St. Paul when he married in 1928. Joseph was a roofer who did wood carving and metal work as a hobby. He spent as much time as he could in the horse barns at the Minnesota State Fair, and admired the Budweiser Clydesdales. While he never owned horses himself, his father drove a water wagon in St. Paul. He likely would have seen the original Budweiser Clydesdale hitch at the Minnesota State Fair when it was on tour in the 1930's and 1940's.
Following is a quotation from Joseph's granddaughter, Leslie Nielsen of Hastings, MN, about her grandfather:


"My grandfather, Joe Ganas, was born in St Paul, MN to German/Polish immigrants in 1904. His dad worked as a teamster, delivering water around the city. My grandpa loved being around his dad's team of horses and would find any excuse to be with his dad at work. I believe this team of horses would have been the only horses Grandpa was exposed to as a young boy. But as he grew up, he found every possible opportunity to be with all breeds of horses and spent every day of the State Fair in the horse barns around the people and creatures he most loved. He spent his work life as a roofer, but his passion was horses. He carved many beautiful horses and gave them as gifts. A good number of these horses were carved from wood and then finished with a simple varnish. Others were painted in an amazingly life-like way. He painstakingly attached real horse hair as manes on these painted horses. The Budweiser hitch was a one-of-a-kind endeavor and took him several years to complete. He lived his adult life in West St Paul. He and his wife, Elsie, had one daughter (my mother), Janet. Grandpa was also a great artist, working primarily with pen and ink and pencils. His early artistic skills were noted by the nuns at St Adalbert's School (St Paul) and he was encouraged to continue drawing. Grandpa died in 1966 after battling cancer. In his last months he was no longer able to carve horses so many of his projects were left undone. I recall as a child being even more fascinated by these half-completed works than I was the finished products because it was so amazing to me that the horses really did start out as just blocks of wood. He might have been able to get more horses carved if I had not taken so much of his time! I was often at my grand parents home for several days at a stretch and the moment he got home from work, my day brightened as my favorite playmate was at my beck and call! He was the kindest and most loving grandfather imaginable!"

Left: Joseph Ganas with his wife, Elsie and daughter Janet (~1930)

Below: Single horse carving by Joseph Ganas
| | |
| --- | --- |
| | Left: Joseph Ganas with his Budweiser Clydesdale 6-horse Hitch and several hand-carved wooden horses in different stages of progress. |
Anheuser-Busch History
1857 Adolphus Busch (18 years old) left Mainz, Germany to settle in St. Louis, MO.
Early German immigrants established breweries in the eastern states, and Milwaukee was the beer capital by the mid-1800's (including Miller, Pabst and Schlitz breweries). Newer immigrants including Aldophus Busch had to move further west to compete in the beer industry.

<![endif]>
1859 Busch established a brewery supply business with Ernst Wattenberg. At age 21 he married Lilly Anheuser, daughter of a prominent St. Louis businessman. Lilly's father asked Adolphus to manage a small brewery he had acquired. The brewery was located on Petalozzi Street, near the Mississippi River. Adolphus was very promotion-minded, and by the early 1900's Anheuser-Busch brewery was the most successful brewery in the country.
In the 1800's, horses and mules were an important component of the beer industry. They were used to pull wagons that transported beer to market. The beer market was primarily the taverns and saloons that were owned by the breweries. Taverns and saloons were the social centers of society at the time.
Adolphus Busch felt strongly that it was both humane and economical to house horses as comfortably as people. He had found after working with hundreds of horses, that well-fed and well-treated horses did more and better work than those that ate and slept in cold, damp, dark places.
1873 Pasteurization was invented in 1871, and Adolphus Busch saw great potential for expanding the distribution of his beer nationwide by rail, since the beer could be stored much longer before spoiling. He started bottling beer in hand-blown glass bottles with corks, and large-scale advertising began. Additional inventions that affected the beer industry were:
1898 – Automatic bottle blowing machines were invented
1910 - First crown cap bottling machines
1935 - First steel beer cans – not popular until WWII - Golden age of beer occurred after WWII
Full page newspaper ads, TV advertising, sports events came into bars and homes via TV
1962 – First pull-tab cans
1913 August A. Busch, Sr. took over management of the Anheuser-Busch brewery. He spent all of his leisure time around horses, both riding and as a coach driver (whip). He loved competition and would hold Sunday brewery horse turnout contests.
August A. Busch, Jr., born in 1899, learned to ride early, and participated in many equine activities, including, pack horse trips, calf roping bronco-riding, team roping, polo, jumping fox hunting, steeple chase races, driving Hackney, Fine Harness Horses and large breed 4-in-hand competitions.
August, Jr. started working at the brewery, running the stable operations. He was particularly impressed by Clydesdale horses, and authorized their purchase to join the Anheuser-Busch fleet.
Clydesdale horses weight about 2000 lb and are 17 hands. They were used for farming, in the lumber and beer industries, and they pulled fire engines, and for transporting families and produce to town. The Clydesdale breed comes from the fertile valley (dale) of the River Clyde in Scotland. The Clydesdale breed was founded in Scotland in 1877, and the first Clydesdales were brought to the US in the mid 1800's. The American Clydesdale Breeders Association was started in 1879.
1917 Gasoline-powered trucks began to replace horse-powered vehicles in the early 1900's, and by 1917 trucks were the primary transportation used for beer.
1919 The 18th Amendment to the US Constitution was passed. Prohibition became law, and alcoholic beverages became illegal.
Many breweries (about 1500) closed, but Anheuser-Busch switched to products such as yeast, corn, malt syrups, ice cream refrigerators, near beer, diesel engines, animal feeds. to stay in business. After prohibition, only 164 breweries were still in business.
1933 Repeal of Prohibition took place on April 7, 1933. Minutes after midnight, the first post-Prohibition beer came out of the Pestalozzi Street Brewery.
April 7, 1933 Clydesdale horses became the living symbol of Anheuser-Busch. Other companies used draft horses to promote their names and products. During Prohibition, August Jr. saw an exhibition of Clydesdales (6-horse hitch) owned by the Wilson Packing Company of Chicago. He decided to commemorate the repeal of Prohibition with a Clydesdale hitch. So, he bought 8 Clydesdale geldings and harnesses from Union Stockyards of Chicago. The horses were secretly moved to the St. Louis Brewery stables, along with former Anheuser-Busch drivers Art Zerr and Billy Wales.
Billy Wales was one of the most famous drivers "whips" of his time. He had his hands insured for $50,000, and one of his Clydesdales, Sir Hurbert, was the most photographed horse in America.
Beer Wagon – 1903 Studebaker meat wagon that were converted to deliver beer. Wagons have two braking systems: a hydraulic pedal device that slows the vehicle for turns and descents down hills, and a hand brake that locks the rear wheels when the wagon is at a halt. The original wagon cost $10,000 and weighed 3.5 tons.
As a surprise for his father, August Jr. lured his father out of his office, into the street in front of the brewery. At a prearranged signal, a 6-horse Clydesdale team appeared pulling Budweiser beer wagon with Zerr and Wales in the driver seat. Records indicate that it was an emotional event.



Original Budwieser Clydesdale Six-horse Hitch and Beer Wagon,
in front of the St. Louis Brewery in 1933
August, Jr. realized the tremendous advertising potential of a horse-drawn beer wagon, and had the team sent by rail to New York City. Wales trotted the 6-horse hitch through the Holland tunnel into Manhattan. The team pulled up in front of the Empire State Building, and presented the beer to former governor of New York State, Al Smith, who had been instrumental in the repeal of Prohibition.
The team went on to tour New England and the Mid-Atlantic States, including Washington DC, where they paraded down Pennsylvania Ave to the White to deliver of a case of beer to President Franklin Delano Roosevelt.
A second hitch of Clydesdale geldings was bought from the Wilson Packing Company. Both hitches were sent on tour to places where Budweiser beer could most effectively be promoted. Promotion and publicity coordination became well established.
Tours were well planned with showroom facilities for public display (clean, inviting appearance, water, electricity, good ventilation). They often used automobile showrooms. Photographers were hired to take pictures.
Travel of teams was initially by rail, and in 1940 truck transportation was introduced. More recently, customized tractor-trailers are used.
1940 A breeding program for Clydesdales was started at the Anheuser-Busch farm to support three traveling teams. In 1955 a champion stallion, Balgreen Final Command, was imported from Scotland. In 1966, 40 mares and a stallion were imported from Scotland and Canada, forming the nucleus of the Clydesdale breeding program. . The breeding program resides at Grant's Farm, the pre-civil war home of Ulysses S. Grant. It has been said that Clydesdales survive in the US because of the Busch family's support and promotion. In 1950, Harry Truman visited Grant's Farm.
Traveling teams
1933 – Grant's Farm in St. Louis, MO – serves the Midwest
1973 – Clydesdale Hamlet in Merrimack, NH – serves the east coast
1979 – Warm Springs Ranch – Romoland, CA – serves the wast coast.
1977 August A. Busch III took over as Chairman of the Board of Anheuser-Busch, and promotional activities of the Clydesdale teams. He moved the promotion into television and movies (including Hello Dolly and Hardly Working).
Each harness weighs 130 pounds.
Each hitch employs a crew of 7 people: lead driver, assistant, 5 chauffeurs-grooms or horsemen.
Horses never spend more than 4 hours/day in harness. While on the road, the handlers work MUCH more.
1982 Three Clydesdale hitches traveled 60,000 miles making 300 appearances in the US, Canada and Puerto Rico, and also made TV commercials, and were in movies like Hello Dolly.
Photographs and paintings became a big part of the advertising, and started as early as 1933. Miniatures for window displays were also used to promote Clydesdales as the corporate symbol.
Clydesdale Six-Horse Hitch Model
The model had been stored for a number of years in the Ganas family home, and was then given to the Avent family, many years after Joseph's death. While in storage, the hitch sustained water damage to the finish on the wooden base and to some of the horses, and significant deterioration of the harness leather had occurred. However, the wood used for base, for the beer wagon and for the hand-carved horses, and the metal hardware were in good shape.
Kenn Kopitzke received the model from Terry Avent, and presented the model at a club meeting, to decide what the club would like to do with the display. It was decided that the individually hand-carved wooden horses, and accurately, built-to-scale, wood and metal model of the Budweiser beer wagon were definitely worth preserving and restoring.
Condition Of The Model As Received By The Manes And Tails Harness Club

The finish on the front-half of the wooden base was significantly water damaged, with almost no finished remaining. The finish on the back half of the base was in reasonable shape, and the wood was in good shape. The lead team of horses had almost no finish left, and the harness leather had leached black stain down the legs. The wood grain showed through the remaining stain, and the horses appeared to be carved from oak. Each of the six horses was carved in a slightly different pose. The stain or paint on the swing and wheel teams were in better shape, but most of the harness had deteriorated, or would crumble when touched. None of the reins remained. The wagon was missing some paint and part of the metal decoration on the side panels. The color of the uniforms of the driver and assistant were a faded, olive-green. The brass hames, and studs on the harness were very tarnished. Original leather used for the tugs, bridles and one piece of saddle harness were of better quality than that used for most of the harness, and were still holding together.
Model Measurements
Clydesdale Horses
Height = 5 inches at withers
Height = 6.5 inches to tips of ears
Length = 7.5 inches from nose to tail
Beer Wagon
Box length = 12 inches plus 1.5 inch foot rest
Wagon height = 7.5 inch + lamps = 8 inches
Wagon width + wheels = 8 inches
Box width = 5 inches, plus angled flange of 0.5 inch on each side of box
Box height = 5 inch
Box height plus flange = 5.5 inch
Wooden Base
Base length = 42 inches
Base width = 8 inches
Base height = 1 inch
Attachment
Each horse is attached to the wooden base with 2 bolts inserted into opposing legs and anchored to the board with nuts in recessed spaces drilled into the bottom of the board.