"Push sleigh" is one of the more common names for 19th century baby buggies on runners. They often had bodies and runners that were patterned after full-sized cutters. They were about half-scale and were sized to accomodate a little person and a bag of groceries.

This green push sleigh was built by Kenn Kopitzke as a gift for Deb Hallis. The photo on the left features the wicker dashboard. The right photo features a carpeted floor with no seat.


These little rigs were never very beautiful, and today the original antiques are very rare and valuable. The push sleighs featured in this article are repliecas patterned after a "country cutter" believed to be built in 1812. The original full-sized sleigh was shown in a 1968 "Carriage Journal" article featuring vehicles that included a manufacturing date. We know nothing more about the original rig, but would assume it resides in someone's personal collection, or a museum.

This yellow push sleigh was built by Sharon Sarappo. It is the same design, and was built at the same time as the green sleigh featured above.


The body of this rig is virtually identical to the full-scale ancestor. The principle exception is that the original vehicle had a crude seat and no upholstery. The Carriage Journal article stated that you were to sit on a bearskin rug and use another bearskin rug for a laprobe. One would have to conclude that this was not a good period of time to be a bear.
Even the paint is vintage 1812. It is tavern green milk paint with the main ingredients being dried milk and lime. The woven wicker dash board is also authentic. The newer more common "Portland cutter" was a grand child of these country vehicles. The portland cutters feature a traditional curved dash and rounded body. However, these features did not become practical for some 50 years, because plywood was yet to be invented.
Like the newer Portland cutter, the upholstered back panels are easily removable for inside storage. In addition, the handles are easily removable for transport and storage.

The interior of the push sleigh without (left photo), and with (right photo) the removable upholstered back panel.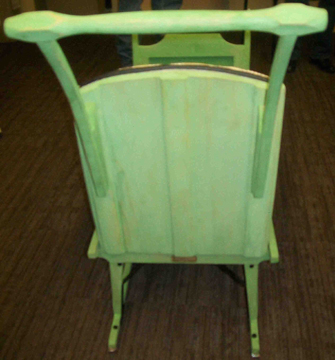 Vehicle back with removable handles.



In addition to pushing children in these vehicles, they also make very nice home or porch decorations.